Projection mapping software to create stunning visual stage designs and installations at the speed of light.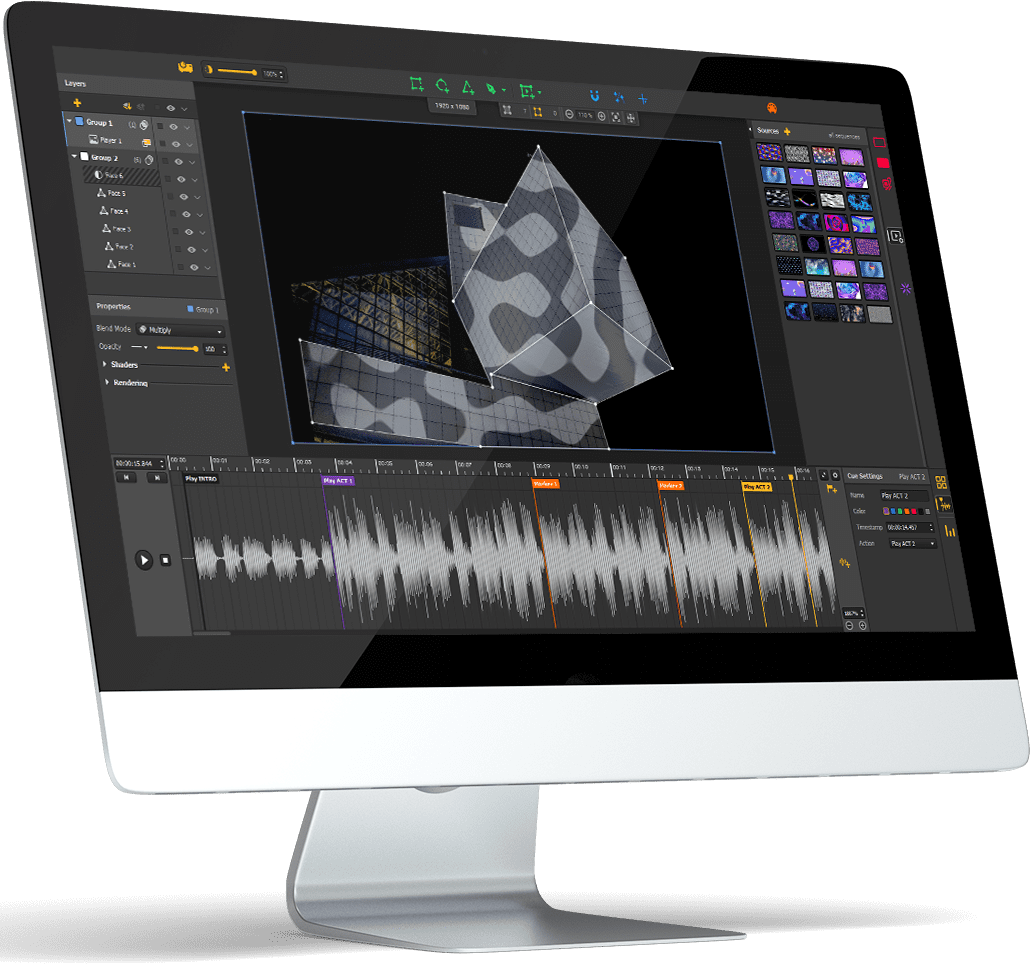 Easy to use projection mapping software to create powerful effects.
Small learning curve and endless possibilities. Most of the features are drag and drop, it only takes a few minutes to get going. Perfect for creating projections on the fly.
HeavyM has created all the creative tools you need to realize your mapping. We make it quick and easy! Use the pre-designed shapes to save time or feel free to create your own, even the most complex ones. You'll be amazed at how easy it is. Finally, HeavyM adapts to your needs: You can do your mapping directly on the object, or prepare it in advance from a photo.
Integrated effects library
Turn your brightest ideas into outstanding visual experiences thanks to the largest and most complete library of visual effects on the market. There are more than 1,000 potential combinations, which leaves endless room for customizing your projection mapping. All the tests and changes you make are visible live. No rendering time to break the creativity. You build your show in a fluid and consistent way.
Automatic adjustment of all your contents
Import your videos, images and gifs directly into the software. HeavyM supports a wide range of formats. In one click, the software will perfectly adapt your content to the setting you want to map. No preparation of the media is necessary beforehand. The process is fast and does not require any technical skills. Magic! 
HeavyM is available in 3 differents offers: Live, Pro and Pro+. Discover the features and the services included in each offer.
Especially designed for artists, music performers and A/V profesionnals
Already +80,000 users Worldwide.
The perfect software to discover and understand the basics of video mapping.
Quick learning, easy handling, immediate results. The software is constantly evolving to meet all my upcoming needs.
The audio reactivity, MIDI control, and the ease of setup make HeavyM an essential tool for audiovisual installations!
Its intuitiveness truly makes it stand out. I absolutely love it
Map everything you want, get HeavyM and a beamer and let your creativity flow. The possibilities are endless.
You can make a solid projection mapping composition in a few minutes.
HeavyM has all the features you need
Projection mapping software available on
Effects react to live music!
Match visuals to music without programming. Automatically synchronize your visual effects with live music. The built-in sound analysis allows you to create a show with perfect visual and sound coherence. If you want to focus solely on your musical performance, you can automate the sound synchronization: a winning asset! The software can even be synced in real time with Ableton Link.
Manage several inputs at the same time
Create walls of images without difficulty. Import all your media into the software, organize them and then broadcast them at the same time. HeavyM is robust to handle your most ambitious projects.
For each media, modify the playback options to obtain the desired result. Put the right content at the right place thanks to the ergonomic drawing tools.
Handle without constraints
Sometimes you need to adapt your video to a 3D volume. Don't spend hours and hours creating a video that fits perfectly on your volume. Instead, use HeavyM's built-in warping tools to warp your video on the fly to fit your set or object. You'll never think about projection the same way after you start using it. 
Organize your project in sequences
The HeavyM sequencer is a must. Organize your project in multiple sequences, combine them with beautiful transitions, activate them whenever you want, or schedule an entire performance with great precision. Create different patterns for each sequence and launch them with one click.
Add live video streams to your performances
The software is compatible with Syphon/Spout/NDI to allow you to stream the output of HeavyM to other visuals programs such as OBS or Resolume.
Of course you can also stream the outputs of various compatible software into HeavyM. Multiply the graphic possibilities of your video jockey tools by combining them without limits. 
Multi-projection and
edge-blending
If one output is not enough for you, send the HeavyM output to several projectors and LED displays… as many as you want. Merge projectors with edge-blending features to broadcast your creations on a large scale. Create impressive projection mapping with several beamers with a few clicks.
HeavyM software can be controlled live via different protocols: MIDI/OSC/DMX. Setting up the link to external controllers is done in a few clicks thanks to the interface-learning configuration. It only takes a few clicks to connect a tablet, a smartphone or a light console to your software for visuals.
You can control the triggering of an effect or a sequence more easily than with a mouse. Your chow becomes a live performance.
Export your creations to video files
You want to run a permanent installation without leaving a computer on site? Simply export your project to a video file and place it in a media player. HeavyM can export high-quality .mov movie files, compatible with the most popular devices.
Enhanced Automation for Effortless Creations
With HeavyM Pro+, we elevate user convenience to a whole new level. You have the ability to automate HeavyM to launch directly upon your computer startup, eliminating the need for manual initiation.
You can also set a specific project to open automatically at HeavyM's startup, saving both time and effort. Furthermore, you can choose to have either the Timeline or Autopilot play automatically after your project loads.
Unleash full potential with a dedicated Server
The Server hardware is your compact yet robust ally in delivering high-performance visuals. Harness the power of the latest components packed in a unit that's designed for portability. It's an optimal solution for projects ranging from live shows to synchronized multi-hardware installations.
With features such as remote control, automatic power on/off, and auto-restart during power outages, you can rely on the Server for seamless and impressive visual experiences.
HeavyM is available in 3 different offers: Live, Pro and Pro+.
Discover the features and the services included in each offer.
Live
Pro

Pro+

Pro+

Creative Features
Intuitive drawing tools
Unlimited faces and players
Integrated visual effects
Blend Modes
Media playlists
Sequencer with transitions
Music reactivity
Timeline module
-
Input / Output
Number of outputs
1
Unlimited
Unlimited
Max resolution
1920x1200px (WUXGA)
Unlimited
Unlimited
Webcam
Media handling in input
Syphon (macOs) / Spout (Windows)
NDI input / output
-
Edge-blending
-
Video export
-
-
Project startup automation
-
-
Remote project modification
-
-
Hardware
Dedicated media server: HeavyM Server
-
-
In option
Controls
Keyboard controls
MIDI controls
OSC controls
-
DMX input via Art-Net
-
Support
Limited
Basic
Premium
Community Forum
E-mail
-
24h
12h
Chat with technical specialist
-
-
Go ahead and try the demo version of HeavyM for free. Or opt for a paid version to have no limitations.
Windows: 8, 10 and 11 (64 bits)
HeavyM 2 is fully compatible with Apple M1, M2 chips by using the Rosetta 2 program with no process delay and great performances.
Intel Core I5 2.30GHz, 4 Cores
4GB of RAM
Integrated Intel chip or dedicated graphics card (Nvidia / AMD) with 2GB of VRAM
500MB of free disk space
Intel Core I5 2.30GHz, 4 Cores
8GB of RAM
NVIDIA GTX 1060 / AMD RX580 / M1 (for Mac) or better
500MB of free disk space
Compatible with all displays
HeavyM is compatible with all VGA, DVI and HDMI projectors. You can also use any LED screens.
Frequently Asked Questions
In need of more details? Our full FAQ section is only a click away. Find all the insights you might need about HeavyM to ensure a seamless experience. Remember, we're here to support you!