Dragon Ball Z & HeavyM: a stage design by Rabbit Revolution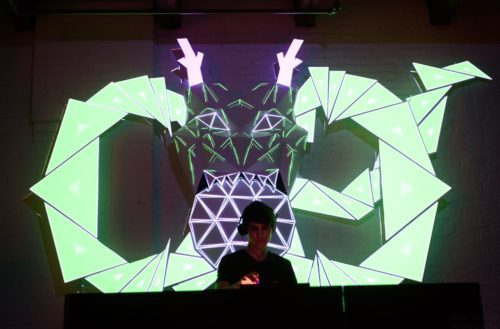 Let's go to the USA and stop in Boston, Massachusetts to interview Damien Paul, DJ at Rabbit Revolution, a one-of-a-kind multi-dimensional artist collective and lifestyle brand, founded with a mission: to revitalize the underground dance music community.
The concept was launched in 2011 with a city-wide scavenger hunt, where participants were encouraged to follow the white rabbit which brought them to a weekly event, Wonderland. They became White Rabbits themselves as they went to bring others into the community: Rabbit Revolution was born!
Rabbit Revolution provides a wide range of services for a diverse set of clients from programming events for nightclubs, to designing stages for music festivals, to providing entertainment for community art shows. Each project is the opportunity to create something unique and to do that, a team of diverse talents handles everything with one purpose:  delivering immersive experiences.
A White Rabbit at a Halloween nightclub event
Immersive experiences thanks to video mapping
For Damien Paul, video mapping is definitely a great tool to captivate people through multiple senses because it provides a medium to visually create an experience in tandem with the music. Video mapping, especially with projection onto objects, has a way of making an environment interact with music in a way that feels tangible and real. 
Damien first came across HeavyM when it was still a Kickstarter campaign in 2014. The team had been designing sculptures and decor for events for quite some time, but had never experimented with projection mapping before. He tried the initial demo and was won over by how intuitive it was, so he decided to become a backer. Now, HeavyM is an important part of their toolkit, to conceive and animate many projects and events. 
A White Rabbit at a Halloween nightclub event
Damien Paul explains: "We use other VJ and mapping applications in our workflow as well, but what makes HeavyM unique is its simplistic design. HeavyM's shape-centric approach to mapping makes bringing the shapes in our three-dimensional sculptures to life very straightforward. The sound reactive and tempo-based features are also quite helpful for us when our visual art is combined with musical performances. We also heavily use HeavyM's Syphon integration so that we can expand our capabilities by connecting to other video applications.
HeavyM has a unique ability to create visuals that are obviously environment-specific that otherwise require custom animation to achieve. This allows us to create visuals on-the-fly, with a level of agility that we wouldn't otherwise have in a production environment. And beyond just the software is a great team and community that supports it. The times when I've had questions or needed help have shown me the best of what I get out of HeavyM, from the developers themselves but also the other users in the forums. I've been very impressed with how fast the software has evolved based on the ideas that have come from other users".
A White Rabbit at a Halloween nightclub event
Rabbit Revolution community is strong and vibrant, which produces many inspirations and influences to draw from.  "As artists, we're just as influenced by the raw tenacity and DIY mentality of the early 90's warehouse rave organizers as we are by the impressive installation works of artists at large scale events like Burning Man. On a deeper level, the inspiration that keeps us in this community is its unique ability to bring together so many unique and diverse people from all walks of life", says Damien.
Shenron Project: from an artistic idea to a permanent installation

 
"The dragon sculpture was a very exciting project for us that was designed for a private client. Our client commissioned us to create a projection-mapped sculpture for a Dragonball Z themed event at his private gallery.  This opportunity allowed us to showcase our team's ability to deliver a project fully from conceptualization to execution. The design began with sketches and concept drawings, then transformed into 2D, modeled in 3D, translated into assembly guides and then, built, assembled and installed by our team. Shenron Project became a case study for Rabbit Revolution's multi-dimensional approach."
The project was so well-received that it became a permanent installation. The client graciously extended the use of the space for the launch event for Rabbit Revolution new video series RRTV Live, which showcases live performances of underground music.
A White Rabbit at a Halloween nightclub event
What's next for 2018? 
"We're very excited to be returning to Hydrotechnics Festival again this July. This will be our second year designing a stage at the festival and we are looking forward to creating something even more amazing than last year.  You can rest assured that HeavyM will be playing an important part in that! A few other yet-to-be-announced events will also be a fun showcase of our live production workflow.
Follow us to be updated!"
Turn your performances into unique immersive experiences